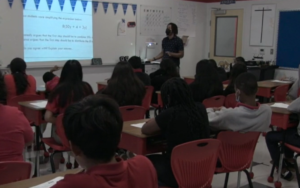 How you ask students to answer a question is often as important as the question you ask. If you don't get everyone to answer, if you don't cause everyone to think deeply about the answer, even the best question will only be so useful.
So great teaching relies on clarity about Means of Participation–that's what we call it when a teacher builds routines so students understand how to participate in a few core ways and then signals to students which to use when.
You can see Teacher McCain of Memphis Rise Academy doing that in this video.
He starts with a bit of Wait Time. He wants students to think deeply about what the first step is in the problem he's presenting. You can see that they all know how to do this. No one calls out an answer. It's silent in the room as students reflect. Everyone has the time and space to think.
Then McCain sends his students off to a Turn and Talk. You can see that they know the drill for this Means of Participation too. They have a shoulder partner. They know who it is. They know what it means to chat. You can see also that it is a familiar routine because students Turn and Talk with energy and without hesitation. They know and trust that their partner will be all in. There's also synergy here. The Turn and Talk goes really well because students have had time to think and so have something useful to say. Of course they're enthusiastic.
Coming out of the Turn and Talk McCain Cold Calls Tonyia. He does a great job of validating his hand-raisers even while he Cold Calls… and makes it clear that he's choosing Tonyia because he thinks her answer is valuable. He also uses the phrase "Start us off…" in calling on her. This is one of my favorite pro-tips for effective Cold Call… it implies that Tonyia doesn't have to be perfect. She doesn't have to know everything. She just has to provide a useful starting point. And when he calls on a classmate to "build on" to her answer–using that phrase for a follow-on is another favorite pro-tip–it doesn't seem like a judgment on Tonyia. It seems like learning is a team sport.
It's really important that students get the content of the discussion down on paper so McCain then reminds students to make sure they are taking notes.
You could imagine a lesson where a teacher asked the same questions as McCain but didn't get the same levels of participation thinking and collaboration from students. McCain accomplishes those things because he's so intentional about his HOW students will participate… Wait Time into Turn and Talk into Cold Call into a bit of note-taking…and because he's made those forms of participation routine. (And also because he's thought about the sequences he'll use in advance.)
Hope you liked this video as much as we did!
The post New Video: The Art of 'Means of Participation' appeared first on Teach Like a Champion.