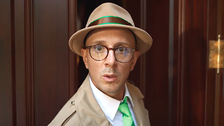 Initial "Blue's Clues" host Steve Burns broke the hearts of a technology with his departure in 2002 ― but all is forgiven now. Steve's again! (Watch the video clip underneath.)
A trailer launched Monday reveals Burns actively playing a pivotal position in a motion picture of the beloved children's Tv franchise, titled "Blue's Significant Town Adventure."
In the clip, the character Mr. Salt comes outside the house a New York Town creating as he attempts to track down "Blues Clues & You" host Josh Dela Cruz (Josh), expressing he knows a "guy" who can help. Opening the door is Burns, decked out detective-type with a inexperienced-striped tie to match the shirt he used to dress in on the Nickelodeon demonstrate.
"You? Is that you?" he asks in the individual model he utilised more than 6 decades with his sidekick pooch, Blue.
Burns joins forces with his successor, Donovan Patton (Joe), as Josh hits Manhattan for a Broadway audition with Blue.
When the three hosts share a taxi alongside one another, they (together with a cabbie played by Alex Wintertime) recite a "Blue's Clues" catchphrase: "You can do everything that you want to do."
"That's what we always say!" they yell in unison.
Burns has supplied different reasons for leaving — which include that he was balding — so his character went off to faculty. But it does not make any difference now. He's back again for at minimum this a person job, and all is appropriate with the environment.
"Blue's Big City Adventure" commences streaming on Paramount+ on Nov. 18.