The beginning of the school year brings lots of stress for both students and teachers. Pep rallies are a fun way to get everyone involved in school spirit and relieve some of that stress. Use a variety of inclusive games and activities in your upcoming pep rally to ensure students of all abilities and ages can participate. Not sure where to start? Check out this list of 31 of our favorite pep rally ideas for your next school spirit event!
Minute To Win It Games
These timed challenges are a great way to include every student in a fun and engaging way.
1. Balloon Pop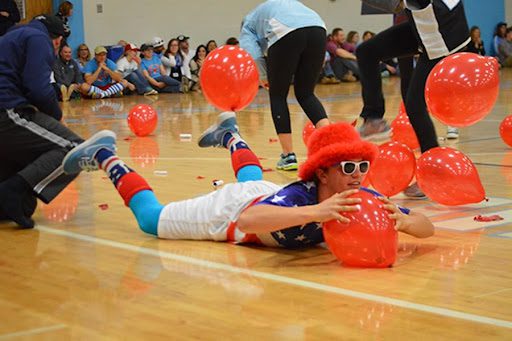 This creative idea involves students popping balloons that contain letters. The ultimate goal is to spell an acronym related to your school. The first student to spell the word wins! 
Source: PWest Pathfinder
2. Toilet Paper Mummy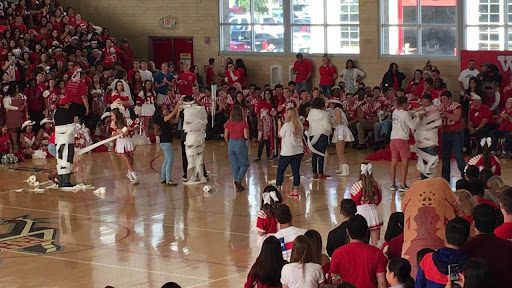 This game works especially well around Halloween, but it can be played anytime! Students work as a team to mummify a classmate with TP. Include the audience by voting on the best mummy.
Source: YouTube/Manuela H. Delgado

3. Skin the Snake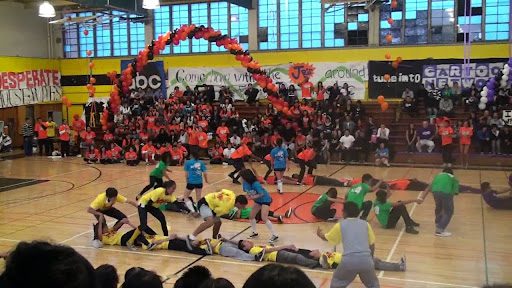 Have students form single lines and reach their right hand through their legs for the person behind them to grab. The front student walks backward, and the other students follow, creating a snake effect. The students then go the other way, and the team with all members standing the fastest wins. 
Source: YouTube/Trucrocks
4. Blindfolded Stack the Cups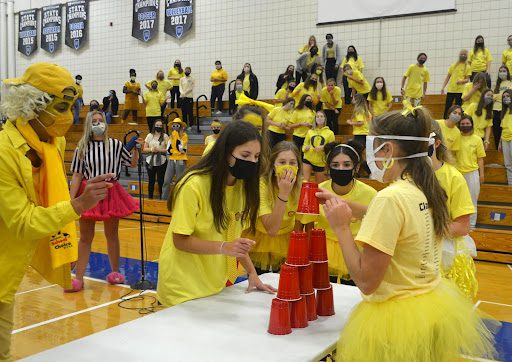 Simply stack the cups in a pyramid, and then unstack them into a tower. The fastest team wins. For an extra team-building challenge, blindfold one student on the team. 
Source: The Network
5. Tic-Tac Tweezer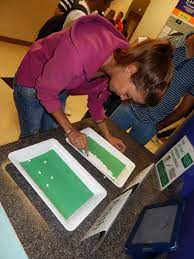 This minute-to-win-it game will really challenge your students! The person with the most Tic-Tacs collected on the finished side wins. 
Source: Facebook: Kaplan International Languages-Toronto
6. Sweep the Potato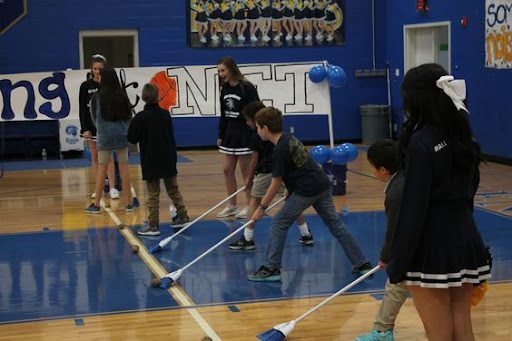 This game is more challenging than it seems! Students use brooms to sweep a potato to the other side of the gym. 
Source: Pinterest: Sabrina Boley
7. Elephant March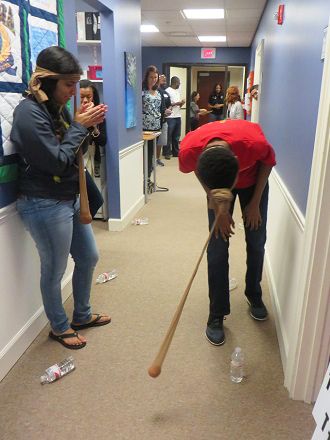 This game will get some great laughs from the kids. All you need are pantyhose, tennis balls, and water bottles. Knock over the line of water bottles in a minute or less!
Source: GUIDE, Inc.
Relay Race Games
Include some relay race games at your next pep rally for students to engage in a little friendly competition. 
8. Relay Race Limbo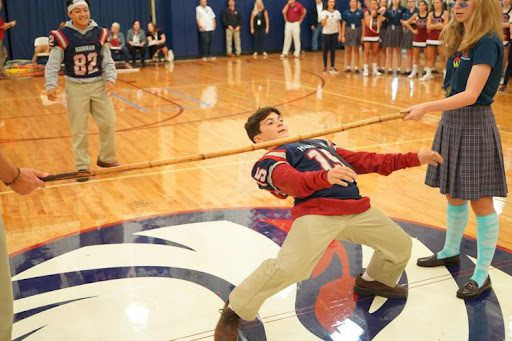 A classic party game, limbo is sure to be a hit at your next pep rally. Create teams of students and compete in a relay race. The fastest teams win a prize of your choosing. 
Source: Nola
9. Dizzy Bat Race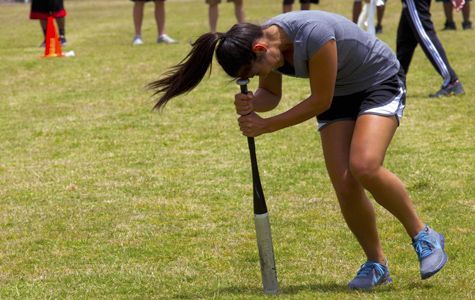 This game involves students spinning around a baseball bat until they are dizzy and afterward racing their peers to the finish line. 
Source: Pinterest: A Bouncy Bear
10. Toilet Plunger Relay Race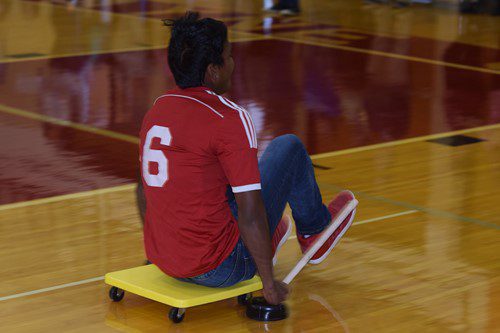 Who knew toilet plungers could be so entertaining? Students use two plungers and a scooter to make it to the finish line in this relay-style game. 
Source: Wayne County Area Technology Center 
11. Obstacle Course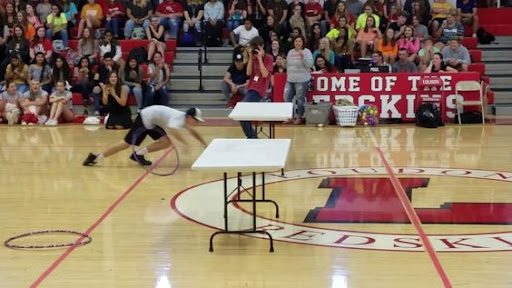 Set up an obstacle course relay race for students from each grade to participate in. The crowd will be cheering their peers on! 
Source: YouTube: LHS News Magazine
School Spirit Pep Rally Activities
Put some pep in your step with these creative school spirit activities.
12. Foam Noodles Entrance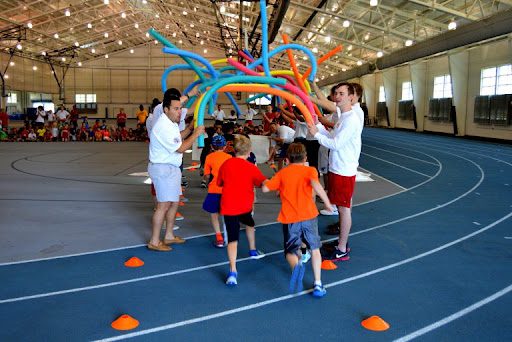 Introducing a sports team or just showing some school spirit? Have students run through this foam noodle entrance that's held together by teachers. Participants will feel encouraged as their classmates cheer them on! 
Source: ESF Bethesda
13. Glow Party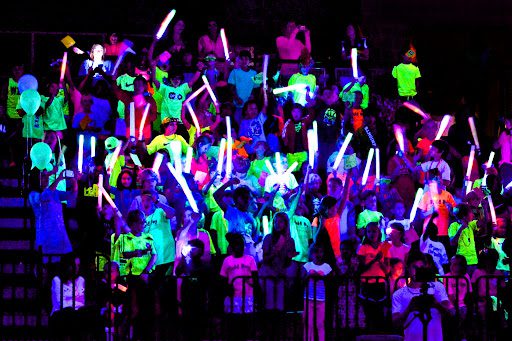 Set up a black light and tons of glow-in-the-dark items for a fun and glowy pep rally. You can even have students wear different-colored neon shirts to enhance the glow effect. 
Source: Superlative Events
14. Lip-Sync Battle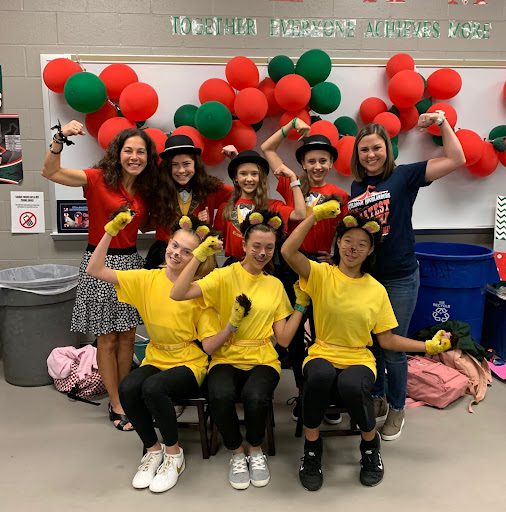 Pick a theme for the pep rally, such as "Circus," and have different grades compete in a lip-sync battle! This creative idea allows students of all abilities to participate and feel included. 
Source: Twitter: Mccgirlscc
15. Themed Dance-Off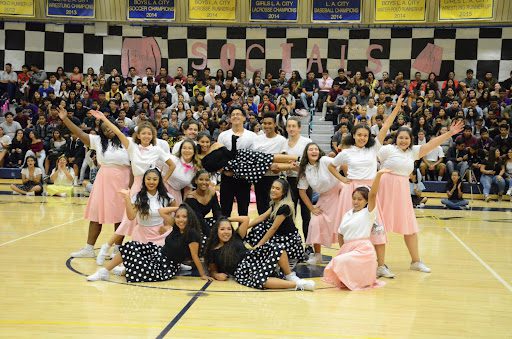 Including a theme in your pep rally can make it that much more exciting for students. Assign decades to each grade, and students can perform in a dance-off for an added element of fun. 
Source: The Patriot Post
16. Decorating Contest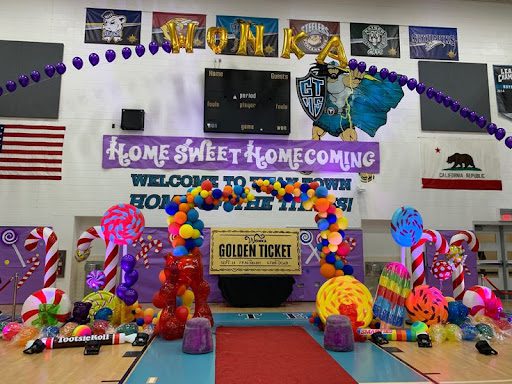 Each grade can decorate an area of the gym with a different theme for a creative competition. Vote on the best-decorated area at the pep rally. 
Source: Pinterest: Marcos Ruiz 

17. Pajama Day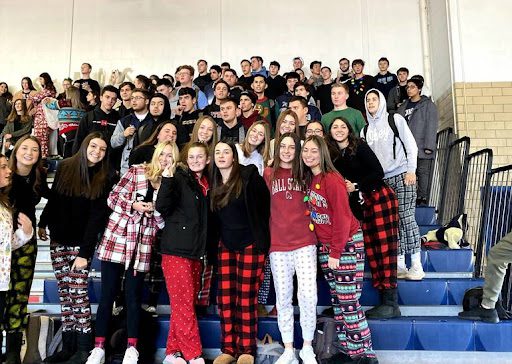 Wearing PJs at school is always fun for students! Encourage participation by handing out PJ-themed prizes to the best-dressed students. 
Source: TAPintoClark
18. Acts of Service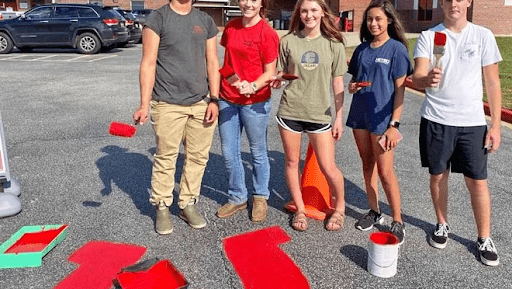 Participating in a school-wide day of service before the pep rally can be an awesome way to raise school spirit. Students can start a painting project, clean up around the school, or even help teachers clean out their classrooms. 
Source: The Augusta Chronicle
19. School Mascot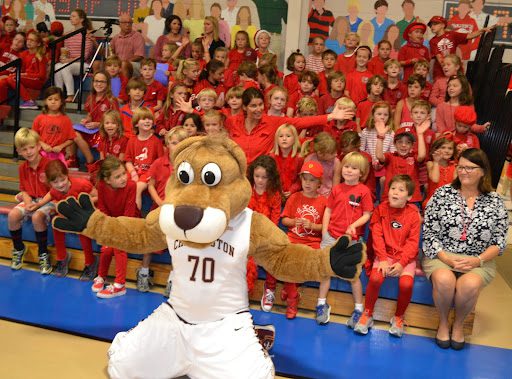 Nothing says school spirit quite like a school mascot! Include your school's character in the games and activities—students will love it! 
Source: Charleston Day School
20. Banner Competition for School Staff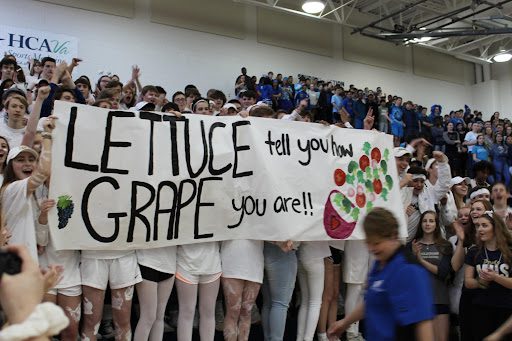 This banner competition idea praises school staff such as cafeteria workers—how sweet! Students will love creating banners that show love to their favorite staff members. 
Source: Midlo Scoop 
Team Games
Students can strengthen bonds with their peers and have a blast with these team games.
21. Hands and Feet Hopscotch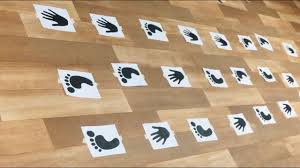 This awesome take on hopscotch is reminiscent of Twister. You can create your own board pieces and rearrange the tiles for a fun and engaging pep rally game. 
Source: Continuing Student Learning ECA Blog
22. Keep the Balloon Up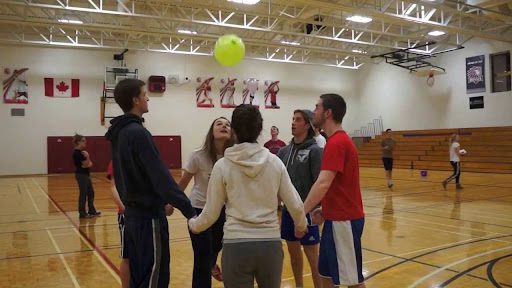 Simple but fun, students keep the balloon in the air without using their hands. Students work in teams to avoid dropping the balloon. 
Source: YouTube/CIRAOntario
23. Hula-Hoop Pass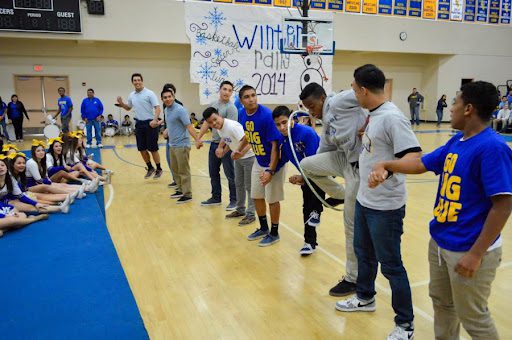 Pass the Hula-Hoop without breaking the chain of hands! This game is competitive but encourages teamwork. 
Source: The Lance
24. Four-Team Tug-of-War
A new take on the classic pep rally game, this tug-of-war game features four teams. After the timer goes off, whichever team is farthest from the middle wins. More players = more fun! 
Source: YouTube/dcuba
25. Seated Basketball Game
This game requires participants to play a version of basketball while sitting in chairs around the room. The "hoops" are two laundry baskets held by students. Watch as the chaos unfolds!
Source: YouTube/Cornerstone Church
26. Human Foosball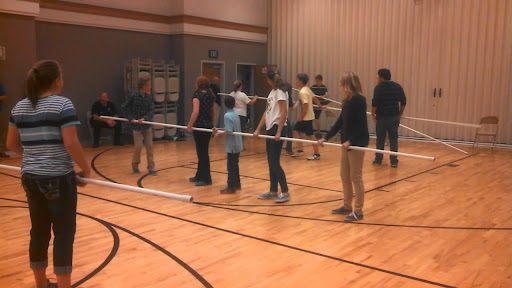 All you need for this game is some PVC pipe and a ball. Participants act as the players in a game of foosball and try to score points for their team. 
Source: YouTube/A Thrifty Mom  
27. Human Knot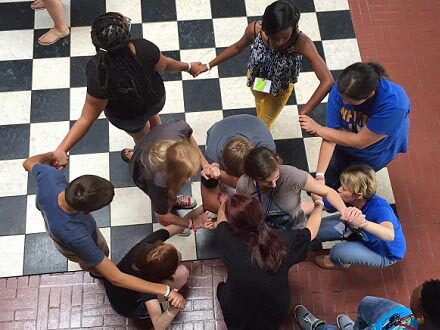 The Human Knot is traditionally an icebreaker game but would also work really well for some school bonding! Participants stand in a circle and reach out, grabbing others' hands. The challenge is to untangle the knot without letting go of any hands. 
Source: GUIDE, Inc.
Non-Physical Pep Rally Activities and Games
Make your pep rally as inclusive as possible with these non-physical games.
28. Blindfolded Connect 4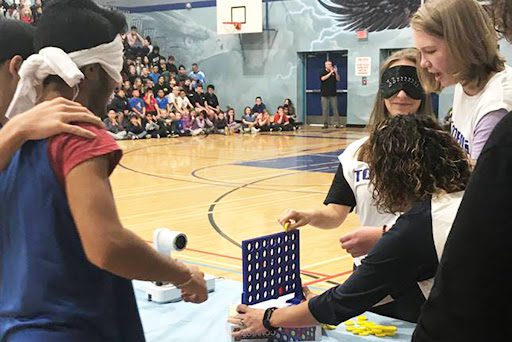 Students will love this new take on a childhood favorite. Have one student guide the blindfolded participants for the ultimate team-building activity. 
Source: Aldergrove Star 

29. Poster Contest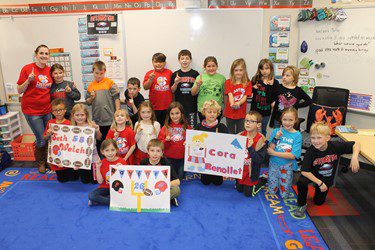 For a less physical activity, have students create posters to cheer on classmates or for general school spirit. Vote on the posters at the pep rally, and don't forget the prizes! 
Source: Eastwood Schools
30. Themed Bingo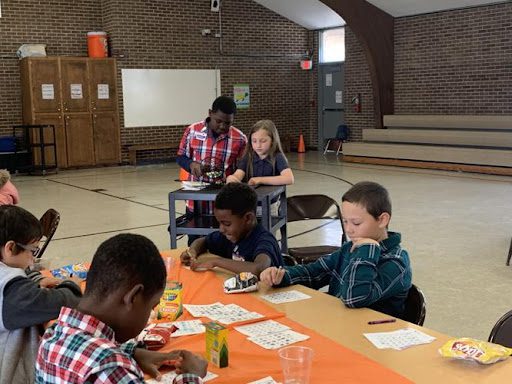 Bingo is such a crowd-pleaser, and you can create boards with fun themes such as school spirit or an upcoming holiday. Students will be engaged and excited to win prizes! 
Source: The Advocate

31. Paper Airplane Toss
Students create paper airplanes with their names on them and try to toss them into trash cans in the center of the gym. Fun, inexpensive, and easy! 
Source: Discover Moose Jaw