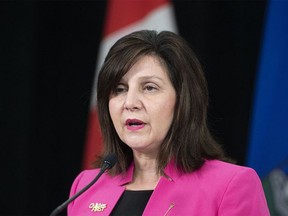 Article content
The Alberta budget has left the Elk Island Public Schools board of trustees a little concerned about some of the allocations for education. 
Article content
The education budget for 2022-2023 is $7.8-billion, up from last year's $7.7-billion, and with school jurisdictions "own source" revenues and federal funding for COVID, total support to education will be $8.4-billion. 
"Public schools provide the best access to choice in education, so the increasing allocation of public tax dollars for charter schools is concerning," explained EIPS board chair Trina Boymook. "EIPS and other public school divisions are best positioned to leverage resources into broad, accessible and relevant programming for all Alberta students. Government investment in public education will reap dividends by having a diverse, skilled and strong workforce leading the way to social and economic success."
Charter school received nearly $72-million in the budget, which includes expanding programing and building new schools over the next three years. 
Premier Jason Kenney said the government believes that Albertans benefit from school choice. 
"We believe in diversity and choice in education. Charter schools are a fantastic example of that. We have parents and families who are deeply involved in their kids' education who set up these schools with specialized programming to charter schools," the premier said, adding that there aren't enough charter schools in the province. 
"That's why we will be expanding this funding both on the capital and operating side, so that they are closer to being on equal footing with public and separate schools," he said.
Article content
Elk Island Catholic Schools has high hopes that the budget will address the rising costs of education. 
"EICS is optimistic with the additional $700-million in education funding to be provided over the next three years," explained EICS board chair Ted Paszek. "We are hopeful this additional funding will assist in the rising costs of the division and the implementation of the new curriculum."
The provincial budget did provide a slight increase in educational funding, but the province has not yet released its projected enrolment numbers. 
"While the division is encouraged funding for important areas like implementation of the new curriculum, student wellbeing and student transportation have been addressed in the new budget, EIPS will not
know the overall impact for students until the end of March when we receive the funding manual for our detailed funding profile from Alberta Education," Boymook said. 
The 2022-2023 budget increased K-12 education funding by 1.7 per cent and committed more than $700 over the next three years aimed at school supports, addressing learning gaps, bolstering charter schools and implementing the new curriculum. 
"We look forward to seeing the 2022-2023 funding manual and specific funding profiles from Alberta Education at the end of March so as we can clearly examine our EICS budget and start budget planning for the upcoming school year," Paszek added. 
The budget set aside $191-million over three years to implement the province's new K-12 curriculum, including $59-million in 2022-2023 for professional help for teachers and resources. 
Article content
There was also funding in the 2022-2023 budget to address mental health issues and gaps in learning due to the COVID-19 pandemic, but it is unclear how that will be distributed as the details have not yet been released. 
The province also promised 15 new schools in Alberta, but no details on where those schools will be built have been released. 
Sherwood Park MLA Jordan Walker said he has pushing for a replacement for Sherwood Heights Junior High. 
"I have made our case and will continue to do so," Walker said. "It is a key local infrastructure priority. I remain optimistic."
Strathcona-Sherwood Park MLA Nate Glubish said he has also been vocal to the education minister about the need for a replacement. 
— With files from Lisa Johnson
twitter.com/travisdosser